SharePoint ShortUrl Affiliate Program
1. The SharePoint ShortUrl Software - What you will Sell!
SharePoint ShortUrl is a SharePoint solution that allows the creation and use of vanity and shortcut hyperlinks fully integrated within the SharePoint environment. SharePoint ShortUrl is suitable for all SharePoint installations – It is a productivity utility! In essence ShortUrl allows organisations to create custom named ShortUrl's with their own domain (opposed to using an external website such as TinyUrl – that looks unprofessional). ShortUrl enables a cleaner way to manage lengthy hyperlinks within SharePoint with minimal effort or expense.
2. How does the Affiliate Program Work?
Join us as an Affiliate and earn 10% commission of each SharePoint ShortUrl License that you sell! As an Affiliate you will gain access to our secure Members Area and be given a unique link and the resources to make sales. Your unique link will place a tracking cookie associated with your Affiliate account and will last for 90 days. This ensures that you will earn commission if the user does not make an instant purchase, from the initial click of your link, but returns to make purchase at a later date. The secure Members Area allows you to Track sales in real-time, view commissions and get paid by Cheque or direct to your PayPal account- Payments are made bi-monthly (within 15 days of a successfully completed sale).
3. Sales Material and Resources
We provide all Affiliates with the sales Material and Resources to maximise their earning potential. Access promotional Emails and Banners within your secure Member's Area. Examples banners;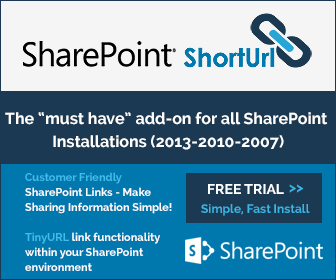 4. FREE SIGNUP!
Click here to Signup and start earning additional revenue by joining the SharePoint ShortUrl Affiliate Program for Free.